Burying an umbrella in an outdoor space correctly is essential to optimize the area, ensuring maximum comfort and safety.
The choice of the optimal position depends on the available space, presence of furniture, and orientation of the sun to provide maximum shade. Crema Outdoor offers a range of umbrellas, from small ones like Zefiro and Narciso to larger ones like Pan, capable of adjusting shade areas with pivots and rotation systems. The exposure to wind should not be underestimated. Always rely on our agents, retailers, or directly contact our sales office for professional and free advice.
When designing the layout for an outdoor space, whether it's a beach, garden, pool, or the outdoor area of a bar or restaurant, properly anchoring an umbrella is one of the requirements to enhance the relaxation area. In this article, we will explore some useful tips on how to bury an umbrella effectively.
How to Bury an Umbrella at the Beach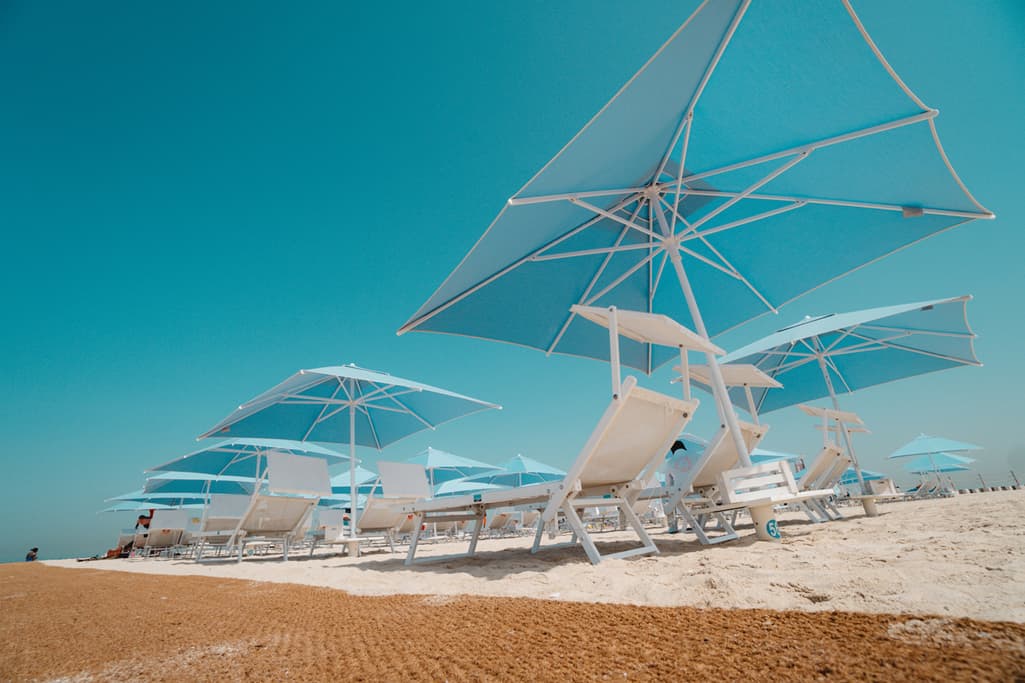 Fixing an umbrella in the sand is simple, and there are two options:
1. Dig a deep hole, insert the umbrella pole, and then cover it with sand.
2. For seasonal installations, dig a deep hole, insert the white Ø85 mm polyethylene column with coupling/reducer and a storage plate, then secure the umbrella.
What are the main risks for an umbrella at the beach?
The marine environment, particularly aggressive due to saltwater, can damage metal parts and accessories over time. Therefore, it's important to choose appropriate materials, prefer anodized finishes or marine-grade coatings, and perform regular cleaning and maintenance.
Wind is definitely a significant risk factor. Choosing the right model, size, and anchoring method is crucial to prevent structural damage and overturning.
To provide maximum comfort to vacationers and better face this possibility, Crema Outdoor has designed wind-resistant umbrellas that are durable and safe.
Within the wide Crema Outdoor range, you can choose from numerous models of beach umbrellas designed specifically for this purpose.
They provide a sheltered space to relax, doze off, read, chat in the cool shade, take a break between swims, walks along the shore, and sunbathing. They are also ideal for poolside use, allowing you to fully enjoy a well-deserved relaxation.
If you need further information about beach products, we invite you to read our article "Professional Beach Umbrellas: How to choose".
Securing an Umbrella in the Garden, Where to Start?
To bury an umbrella in the garden, it's important to consider several factors, including:
Type of terrain: Is it a grassy area, gravel surface, or cemented area? In the case of cement, it's important to know the composition and ensure it has a thickness of at least 20 cm.
Wind exposure: Determine whether to choose an umbrella with a wind vent and reinforced structure in terms of profiles or opt for a lighter umbrella.
Size of the area to be covered: Depending on the available space and intended use, it's advisable to consult the available dimensions for each model to determine whether a larger or more compact and versatile umbrella is the best solution.
Once these specifications have been verified, it will be easier to choose the most suitable model for your needs. The umbrella is an essential element for garden comfort, and Crema Outdoor offers a wide range of different umbrella types, including telescopic and automatic opening and closing umbrellas.
One last piece of advice: to make the outdoor space even more enjoyable, you can complement the umbrella with outdoor furniture and accessories, such as:
Outdoor tables for gathering guests from breakfast to aperitivo
Outdoor chairs for people to sit and sunbathe or enjoy a cup of coffee
Infrared heating for umbrellas, ideal for cooler temperatures, allowing you to enjoy outdoor relaxation even during colder periods.
Crema Outdoor's outdoor furniture catalog includes various models in terms of size, shape, and style, suitable for numerous uses.
Outdoor Umbrellas, the Wide Selection of Crema Outdoor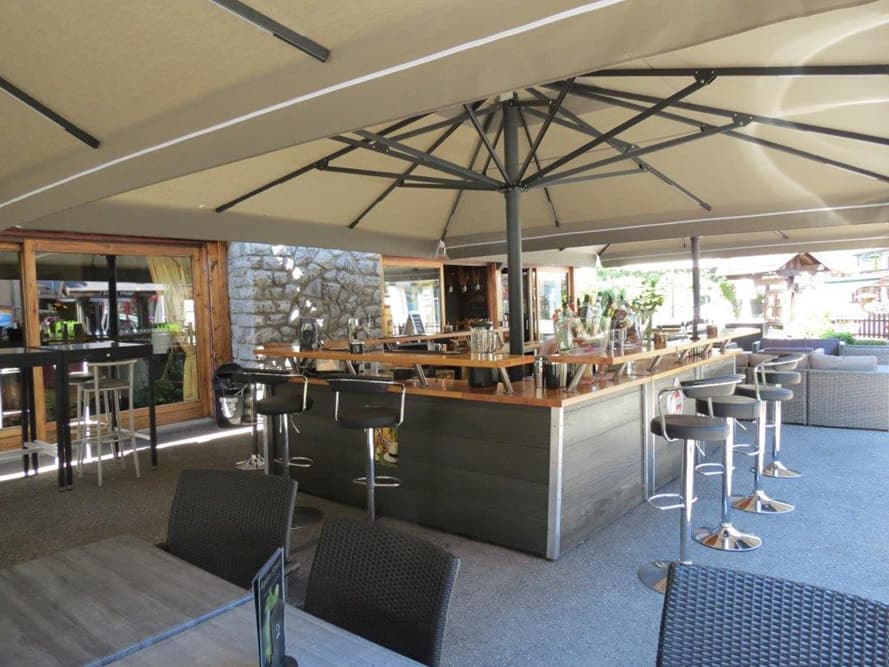 Thanks to our years of experience, we have designed numerous models of outdoor umbrellas suitable for placement on the beach, in the garden, on the terrace, and even outside bars and restaurants.
Crema Outdoor products are functionally designed for absolute comfort and fully customizable, from the base to the umbrella fabric.