Spending time outdoors during summer days is truly enjoyable, especially if we have a small open area in front of our house. To make the most of even the hottest hours when it's necessary to seek shelter from the sun, a good solution is to create shaded areas in our garden.
This way, we can protect ourselves from the intense sunlight and fully enjoy our green space. But how do we create shade in the backyard? In this article, we explore some possible solutions.
The Best Solutions for Creating Shade in baskyards, patios and gardens
There are several alternatives for creating shaded areas in outdoor areas, some of which are practical and cost-effective, while others require a more substantial investment. We choose the best solution based on our needs, the characteristics of the available space, and the type of intervention we desire.
Outdoor Umbrellas

The simplest and most economical system for creating shade in the garden is an outdoor umbrella. Convenient and functional, this product adapts to all needs in terms of size and aesthetics. Whether big or small, round or square, with a central pole or a side arm, Crema Outdoor offers many different models, with the possibility of customizing all the finishes. In another article, we discussed how to choose the right garden umbrella based on size, type, and shape.
The outdoor umbrella offers multiple advantages: it is easy to insert and remove (even in communal gardens), occupies little space when closed, and does not require invasive installation work.
Gazebos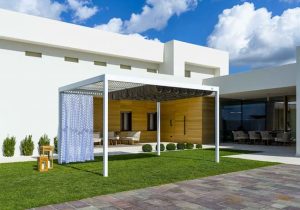 For those who need a larger shaded area and want to create a furnished space in the garden, a gazebo is an excellent alternative. Thanks to its lightweight structure and an openable top cover, it can be temporarily placed in the garden, perhaps during the summer season.
The range of garden gazebos from Crema Outdoor combines functionality and elegance to create cutting-edge solutions designed to comfortably accommodate people and outdoor furniture. In another article, we discussed how to enhance our gazebo and create a functional space just for us.
Awnings
Another solution for creating shade in the garden is to install an awning or a shade sail, which, with their fabric, can shield a portion of our open area. We can choose neutral colors or unleash our imagination by selecting unique shades.
In this case, some additional work will be required for installation because the awning needs to be fixed to the wall of the house, and the shade sail requires specific supporting posts.
Pergolas
Those who desire an ornamental structure, perhaps covered with climbing plants, can opt for a pergola. Unlike a gazebo, pergolas usually lack a top cover and have primarily a decorative function.
If there are large trees in the backyard or the outdoor area, we can install the pergola beneath their branches, taking advantage of their shade to protect ourselves from the sun.
Whichever solution is chosen to create shade in the garden, let's not forget to furnish our green area with furniture and accessories to transform it into a true oasis of relaxation.
Discover Crema Outdoor's solutions for creating shade in the garden!